Easter crafts for kids are saving my life right now! We want to keep our kids having fun and being festive. Part of our homeschooling is art time- where we get to get the girls creativity going. I put together this list of 10 Easter crafts for kids so you can join us too! Remember- there is no right way to parent during this time but these Easter crafts for kids can be a time you get to enjoy your kids and do something to lighten everyone's hearts.
1.Bunny and Duck Toy Story Craft
I love this craft. Toilet paper roll crafts are becoming quite popular in our home and Toy Story is ALWAYS a hit! These Bunny and Duck Toy Story characters from Toy Story 4 are super cute!
2.Bunny Feet
I could not stop laughing at this idea! These Bunny Feet are hilarious and you can seriously make them any footprint you want!
3.Easter Coloring Pages
Not just a fun craft but an entertaining one! We live for coloring here! These easy Easter Coloring Pages are perfect for you to print out and let your kiddos get to work.
4.Paper Plate Easter Bunny
This Easter bunny paper plate craft is so adorable! The girls went crazy and the fun part is you can grab the printouts right HERE ! I love this and fit in perfectly with our decor colors so you know we will be making these soon!
5.Handprint Bunny
As a mom I don't think we can get enough of handprint crafts. I love having something to compare their tiny hands to as they grow. These handprint bunnies are so perfect for this.
6.Easter Bunny Bags
We are still celebrating Easter to the fullest- which means some goody bags for the kids! Enjoy creating these Easter Bunny Bags with your little ones and fill them with goodies just for them, or maybe drop them off at a neighbors doorstep.
7.Popsicle Stick Bunny Mask
My girls live for masks! They were so excited when I showed them our next project- this popsicle stick bunny mask! So cute and oh so festive!
8.Bunny Corner Bookmark
The kids get a book with their Easter basket every year. One of my favorite things on this Easter crafts for kids list is this bookmark! It goes perfectly with their books!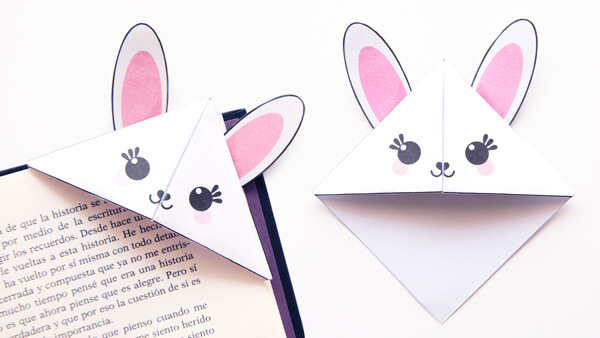 9.Cardboard Roll Bunny
I have never saved toilet paper and paper towel cardboard rolls as much as I have been lately. I cannot wait to create this cardboard roll Easter bunny for our next craft.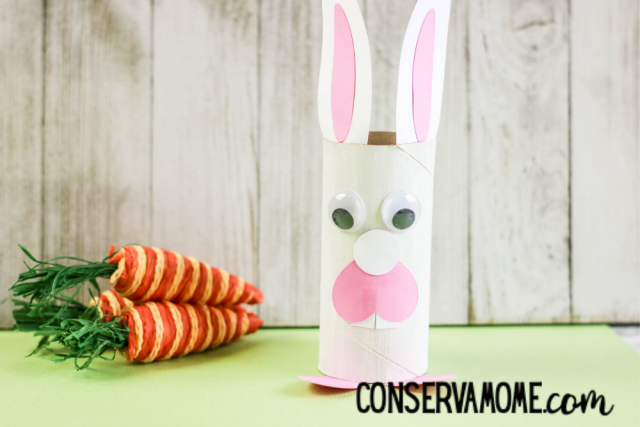 10.Easter Bunny Slime
I have yet to meet a child who doesn't love slime! This Easter bunny slime is perfect for the season and you know your kids will LOVE getting to make this!