Can you believe Thanksgiving is around the corner? Although the holiday may look a little different it will not stop us from enjoying our traditional dinner. I gathered these ideas Thanksgiving sides and just had to share!
Last year was the first we celebrated in our home and made our meal ourselves. It was so much fun and filled with so many memories we wish to turn into traditions with our kids.
The best part of the holidays for us are the moments we share with our kids. Cooking our turkey and Thanksgiving sides together will be a tradition full of fun & tiny cooks!
This list of Thanksgiving sides has it all! From corn bread to veggies to stuffing recipes for your family to enjoy.
Thanksgiving Sides
1.Spinach Stuffing Balls
Spinach Stuffing Balls are a great make ahead side dish for your holiday dinner. Warm them up while the turkey is being carved then enjoy!
2.Green Beans and Mushrooms
This super easy Green Beans with Mushrooms recipe, with buttery garlic and onion flavors, is a traditional holiday side dish for my family. It's healthy, quick and adds a burst of color to your dinner plate!
3.Zesty Green Bean Casserole
Creamy and comforting, this Green Bean Casserole is made completely from scratch. The extra effort of using fresh green beans and a zesty homemade mushroom cheese sauce really improves upon this classic holiday casserole. Topped with golden buttery panko crumbs and French's fried onions, it's practically irresistable.
4.Gluten-Free Stuffing
Thanksgiving is never complete without some of The Best Gluten-Free Vegan Stuffing! Impress your guests with this essential side dish recipe that's safe for all food allergies, loved by all, and may just become the new star of the show!
5.Homemade Yeast Rolls
Our homemade yeast rolls are just like the one's Grandma used to make. Warm, tender dinner rolls topped with melted butter. Serve them as-is or with honey!
6.Sautéed Rapini
Switch up regular broccoli for rapini at Thanksgiving. It's so much more tasty and won't take up as much precious real estate on the plate as normal broccoli does!
7.Paleo & Keto Seed and Nut Bread
This easy keto and paleo diet friendly seed and nut bread recipe is super fast. It uses only seeds and nuts plus a bit of spice and oil. Great option for those leftover sandwiches
8.Pumpkin and Herbs Casserole
I love a good pumpkin anything! Excited to add this pumpkin and herbs casserole to my list of thanksgiving sides !
9.Vegan Goat Cheese
This vegan goat cheese is very quickly made and has two versions: creamy and a solid option. It is great for those following special diets!
10.Baked Chickpeas with Butternut Squash
I am a new fan of butternut squash. Cannot wait to try this baked chickpeas with butternut squash recipe!
11.Homemade Cranberry Cider Sauce
I was 28 years old the first time I tried cranberry sauce! Can you believe it? Now, it is a key part of our thanksgiving sides list! Can't wait to try this version of a homemade cranberry cider sauce.
12.Slow Cooker Butternut Squash and Apples
I love recipes that require little prep. This slow cooker butternut squash and apples takes all but 5 minutes to prepare and is cooked by your slow cooker! That is a HUGE win in my book.
13.Cream Cheese Corn Casserole
I LOVE corn! On the cob, in a casserole, creamed- HOWEVER! This cream cheese corn casserole has my name on it!
14.Sweet Potato Apple Cranberry Bake
Trying new recipes is one of my favorite things to do. It's a great way to introduce my family to new flavors. This sweet potato apple cranberry bake is another that is easy to prep!
15.Holiday Wild Rice Pilaf with Cranberries and Pecans
This Holiday Wild Rice Pilaf has pecans and I am sold! It sounds like a perfect Thanksgiving sides dish. I love that is is an easy one pot dish.
16.Smashed Butternut Squash with Sage
Maybe you swap the mashed potatoes for smashed butternut squash? Maybe have both? I love having a few mashed options for the little ones to enjoy.
17.Southern Baked Macaroni and Cheese
If there is one side that is ALWAYS a must on our thanksgiving sides dish it is macaroni and cheese. The kids love it. The adults love it. It is a true win win! My favorite is a truly Southern feeling recipe like this baked macaroni and cheese recipe!
18.Easy Thanksgiving Stuffing with Apples and Celery
I love changing up the stuffing recipe at our table. Stuffing is such a staple of Thanksgiving. This Easy stuffing recipe with apples and celery sounds like absolute heave.
19.Pan Fried Brussel Sprouts
Anyone else a huge fan of brussel sprouts? We have them weekly in our home and are always looking for new ways to cook them. These Pan Fried Brussel Sprouts with Turkey Bacon and Parmesan sound so delicious and right up our alley!
20.Firehouse Green Beans with Bacon
My oldest, Zoey, LOVES green beans AND bacon! Cannot wait to show her this green beans with bacon recipe!
21.Soft Homemade Crescent Rolls
Rolls for Thanksgiving are non-negotiable. I LOVE a soft roll with butter with my Thanksgiving dinner. Do allow ample time to make as the dough needs a night to rise.
22.Cranberry Orange Sauce
Remember when I said I like to try new recipes? This Cranberry Orange sauce sounds so delicious! I love that it can be made ahead of time too!
23.Green Beans Almondine
This green beans almondine recipe doesn't just sound delicious- it looks beautiful! What a great side for special occasions or mid-week dinners. It takes only 20 minutes to make!
24.Candied Yams
Candied yams are my jam! I love this Thanksgiving side so much! But can you believe I have never made them myself? I am so excited to give these a try!
25.Garlic and Herb Carrots
I love this garlic and herb carrots because they are easily made in your Instant Pot! I love how easy they are to make!
26.Pumpkin Cornbread
I love that this pumpkin cornbread is perfect for Thanksgiving but also a great pairing to chili and some other Fall favorite foods!
Related Post: 55 Delicious Pumpkin Recipes
27.Roasted Pear, Walnut, and Cranberry Salad
My husband loves a tasty salad any time! This salad is perfect for the holidays with the roasted pears, walnuts, and cranberries for that holiday spin!
28.Zucchini Gratin
Having a few zucchini plants in my garden I was extra excited for this zucchini gratin recipe! Cannot wait to try it with zucchinis straight from my own garden.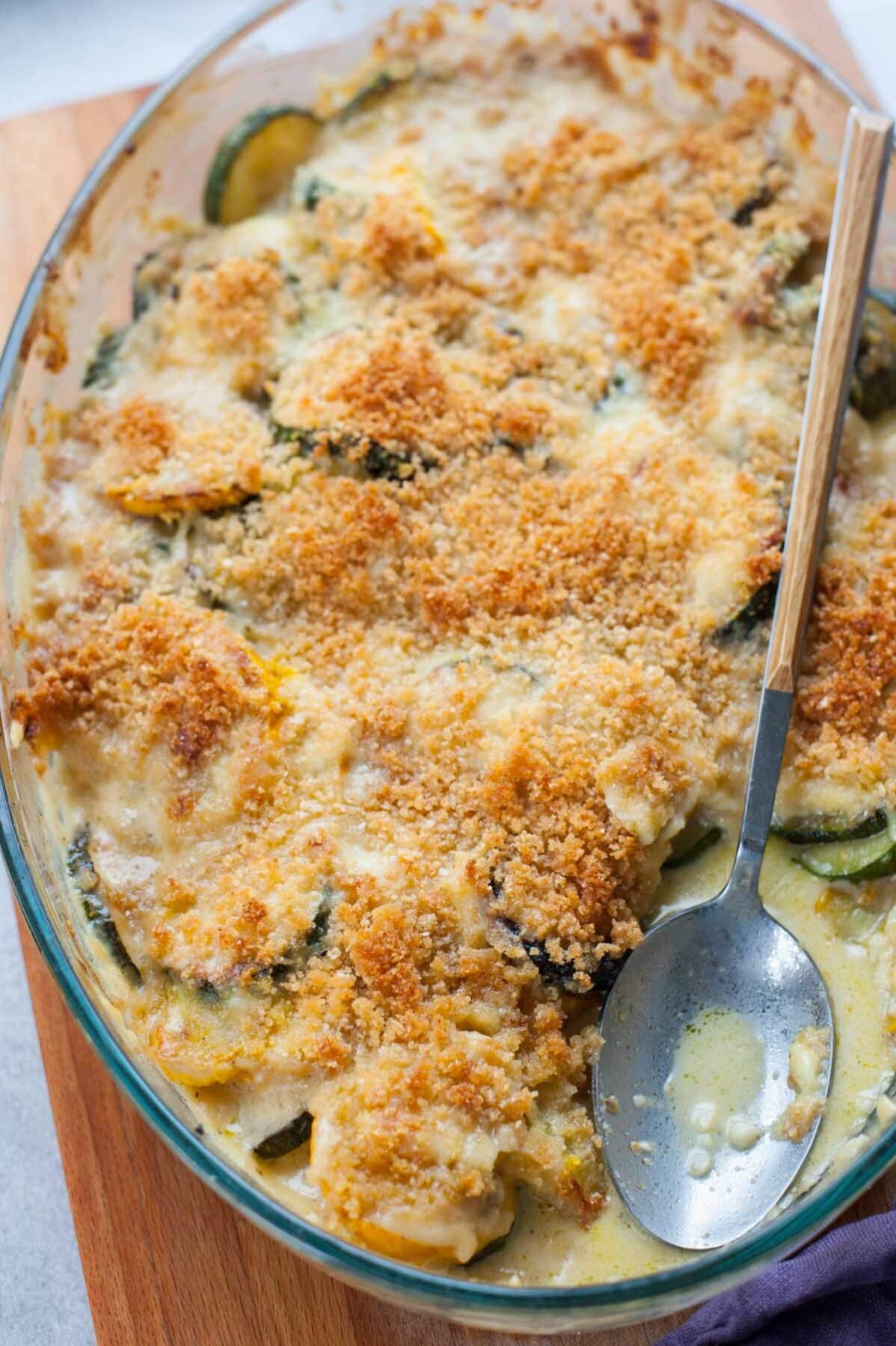 29.Braised Red Cabbage
This braised red cabbage recipe is so simple. From what I hear it pairs great with all your Fall and Winter favorites!
30.Roasted Sweet Potato Stuffing
I love different variations of stuffing. Sweet potatoes are an absolute favorite of mine and would love to try this roasted sweet potato stuffing recipe!
31.Cream Style Corn
I love making creamed corn! This cream style corn recipe is so cheesy and takes you only 5 minutes to prep! Talk about a win!
32.Red Skin Mashed Potatoes
We cannot miss out on any mashed potatoes recipes! It is an absolute classic Thanksgiving side! This red skin mashed potatoes recipe calls from caramelized onions- YUM!
33.Twice Baked Sweet Potatoes with Marshmallows
The sweet potatoes with marshmallows mix is something I enjoy so much! This is a great twist to your traditional casserole!
34.Green Bean Casserole
This green bean casserole is make completely from scratch! Add that wow factor with this recipe!
35.Au Gratin Potatoes
I love Au Gratin Potatoes! They are a delicious and cheesy dish I cannot get enough of. These will be a great addition to your dinner table any time!