So I have a confession…we BBQ just about all year round! Whether it's a Summer BBQ with friends & family, or our homegate BBQs, we love any excuse to gather around food & our friends and family. Which is why all year round I gather BBQ Recipes !
Related Post: Carne Asada Nachos
I gathered up 75 BBQ Recipes from different delicious cooks for you to take a look at this BBQ season! I made sure to keep it super diverse in hopes you find something for everyone! Now, let's get to it. WARNING: You may be hungry after looking through this!
75 BBQ Recipes
1.Potato Salad
This one is called the "Best Potato Salad Recipe". It is the perfect recipe for a summer BBQ or pot luck dinner. It is so rich and creamy and has the perfect amount of flavor.
2.Easy Stuffed Burgers
The easiest stuffed burgers you'll ever make! Tender, juicy and flavorful beef patties you stuff with cheddar cheese, mushrooms and onions.
3.Grilled BBQ Chicken Recipe
With a brine that keeps the chicken juicy and some homemade BBQ rub, this grilled BBQ chicken is the perfect dish when breaking out the grill.
4.Grilled BBQ Pork Tenderloin
This BBQ Pork Tenderloin is so easy to make on the grill or in your oven. Simple ingredients packed with sweet and smoky flavor, the only pork tenderloin recipe you'll ever need!
5.Sugar Free BBQ Sauce
Looking for the best sugar free BBQ sauce recipe that you can make in 5 minutes? It's so tasty that you won't believe this barbeque sauce without sugar isn't the real thing.
6.Italian Chicken Drumstricks
Authentic Italian chicken drumsticks are easy & flavorful with this amazing recipe. The fresh marinade & simple grilling method makes this a grilling dream.
7.Grilled Peach, Avocado, and Goat Cheese Arugula Salad
If you have never grilled fruit you are missing out. Fresh peaches burst with even more flavor once grilled. Add them to this salad for a wonderful summer combination.
8.Pulled Pork Barbecue
This pulled pork barbecue is seasoned with a delicious dry rub that's salty, sweet, and just a bit spicy. Then you smoke it low and slow until the meat is fall-apart tender.
9.Spinach and Feta Turkey Burgers
These turkey burgers feature lean ground turkey combined with crumbled feta and chopped spinach. They're juicy and packed with flavor and make a great choice for your next cookout!
10.BBQ Meatballs
The BBQ Meatballs are full of slow-smoked flavor without spending all night smoking them. Great as a main dish or served as a party appetizer.
11.Macaroni Salad
Macaroni salad is one of the best BBQ sides. Macaroni, fresh vegetables combine in a delicious creamy dressing.
12.Italian Pasta Salad
This classic Italian pasta salad is always a hit and super easy to make with creamy Olive Garden Italian dressing. Customizable too!
13.Jerked Beef
Jerked Beef is a sweet and salty barbecue sensation that uses just a few ordinary ingredients!
14.Grilled Chicken Salad Recipe
These grilled chicken breasts are a delicious side with a simple lemon and pepper marinade. Grill them to a beautiful char, slice, and serve with fresh avocado!
15.Pulled Pork
This pulled pork recipe is perfect for your summer BBQ and family get togethers.
16.Grilled Balsamic Pork Kebabs
Enjoy grilling weather with these Grilled Balsamic Pork Kebabs! They're made with marinated and seasoned pork tenderloin medallions, bell peppers, zucchini, and red onion, and served with a crunchy, fresh side salad. It's not only a delicious and easy to make meal, it's also Paleo and Low Carb friendly!
17.Beer Can Chicken
This BBQ Beer Can Chicken (also known as beer butt chicken) with Molasses Beer BBQ sauce is moist and juicy, making it the perfect Father's Day dinner. It's also Weight Watchers friendly!
18.Traeger Tri Tip
Part steak, part roast and absolutely delicious; it really is BBQ's best kept secret that is sure to pleasantly surprise backyard BBQ's! The best part? It's super easy to prepare and cook! This is a reverse sear tri tip recipe which means we cook on low for about 45 minutes with smoke and then sear at the end.
19.Carne Asada
This Carne Asada recipe is made with flank steak or skirt steak infused with the flavors of the best carne asada marinade.
20. Grilled Corn on The Cob
Perfectly Grilled Corn on the Cob is very juicy and pairs so well with creamy vegan avocado dill dressing. Easy and impressive recipe for your summer barbecue!
21.Grilled Chicken Tenders
These grilled chicken tenders are delicious and easy to make. They are marinated and grilled on an outdoor grill or a grill pan. Perfect for a quick lunch or dinner!
22.Steak Fajitas
These steak fajitas are very quick and easy to make and they are quite delicious. A great homemade Mexican meal with minimal fuss. Even better when you BBQ your meat!
23.Mustard Chicken Marinade
An easy chicken marinade made with soy sauce, lemon juice and mustard, this Mustard Chicken Marinade is salty, tangy and just plain incredible! Plus, it comes together it just a couple minutes.
24.Smoked Corned Beef Brisket
This smoked corned beef uses minimal ingredients and is relatively easy. Smoking it adds a ton of flavor that you don't get by cooking it the traditional way.
25.Gochujang marinated Korean Beef
This gochujang marinated Korean Beef recipe has a deliciously spicy, smoky, deep umami flavor from the fermented chili paste marinade. Grilled to perfection, this is the perfect (easy to make) addition to your BBQ!
26.Grilled Broccoli in Foil
Your BBQ meal needs some veggies! Use foil packets for deliciously cooked broccoli.
27.Keto Coleslaw
Even if you don't think you like coleslaw, this low-carb coleslaw dressing recipe might just change your mind! It's slightly sweet with a crunchy slaw that's full of flavor!!!
28.Country Style Keto Ribs
These Country Style Keto Ribs are not only flavorful, super tender, and delicious, but they are easy and can be made in the oven or on the grill! Plus, they can be made Paleo, Gluten-Free, AND Whole30-compliant!
29.Five Bean Salad
5 Bean salad is an easy classic barbecue side dish! This salad keeps well and is a perfect dish to make ahead of time!
30.Sweet Chilli Tortellini and Vegetable Skewers
Delicious tortellini BBQ skewers, with vegetables and halloumi, all marinaded in sweet chilli sauce and grilled to perfection.
31.Carne Asada
The beef is spiced with Old El Paso Smoky BBQ Fajita Seasoning and barbecued until it's juicy and delicious, then sliced in classic carne asada style
32.Texas Roundhouse Steak Rub
Just a few simple seasonings is all you need to make the best dry steak rub recipe to compliment the amazing flavors in your chicken or steak, and tastes just like the Texas Roadhouse restaurant!
33.Southern Coleslaw
This Easy Southern Coleslaw Recipe is tangy and crunchy with just a hint of sweet. The perfect dish for all your summertime parties, picnics and BBQs.
34.Grilled Shrimp Salad
Grilled Shrimp Salad is a nice healthy, light meal for the summertime. This Moroccan Grilled Shrimp Salad Recipe is super flavorful and is ready to serve in just 15 minutes!
35.Strawberry Avocado Pasta Salad
Sweet, tangy, colorful, and fresh Strawberry Avocado Pasta Salad with poppy seeds is ready in under 20 minutes and a great side dish or mains for everyday eats or holiday gatherings.
36.Baby Back Carolina Style BBQ Pork Ribs
Baby Back Carolina Style BBQ Pork Ribs are Carolina style and cook slowly on the grill, which paired with a homemade vinegar based barbecue sauce.
37.Vegan Beet & Kidney Bean Burgers
Our beet and bean burgers are super easy to make and really customizable! Scrumptious, messy, colorful and perfectly textured, these crowd-pleasers are everything you'd want a burger to be.
38.Instant Pot BBQ Chicken
This shredded barbecue chicken is great for barbecue chicken sandwiches, barbecue plates, and more. It's super simple to prepare (just dump the ingredients in the pressure cooker and cook!) and totally saucy and full of flavor.
39.Beef Kabobs
Nothing is more fun at a BBQ than meat on a stick! And in case the weather doesn't cooperate, oven cooking directions are included!
40.BBQ Pulled Jackfruit
Soft and juicy pulled jackfruit is gently roasted and coated with a gorgeous BBQ sauce that is sure to convert even meat lovers to this vegan pulled pork alternative. Because of the innate ability to soak up flavors, unripe jackfruit paired with its string like texture makes a fantastic pork substitute. You'll never miss pulled pork again.
41.Chicken Shish Kabobs
These Best Chicken Shish Kabobs are smoky and sweet. Each skewer is filled with juicy pineapple, tender chicken, crispy bacon and savory zucchini slathered in Budweiser Sweet and Savory Barbecue Sauce.
41.Chicken Shawarma
This Chicken Shawarma Recipe is loaded with flavor and one of the easiest and most delicious Mediterranean recipes to make at home. Chicken marinates in a simple spice blend and cooks in the oven or on the grill until perfectly tender, juicy and golden brown.
42.Instant Pot Ribs
Instant Pot ribs are fall off the bone tender, seasoned perfectly, and take just half an hour in the Instant Pot. Finish them off on the grill or under the broiler. You'll never want to make ribs another way again!
43.Easy Turkey Kebab
Healthy turkey kebabs with finely spiced, tender turkey breast cubes. A very easy recipe for Turkish kebabs.
44.Grilled Eggplant Salad
This Grilled Eggplant Salad with Herbs is a healthy and delicious salad that everyone will love! A perfect side dish for any bbq
45.Chicken Tikka
Tandoori Chicken Tikka or Murgh Tikka is a popular North Indian starter, where marinated chicken is grilled until perfection. This authentic snack recipe is great to make for parties or get-togethers and it comes together in under 10 minutes
46.Jackfruit BBQ Sandwich
Simple and easy to make sweet smoky BBQ Jackfruit
47.Oven Baked BBQ Chicken
Oven-baked BBQ chicken is a delicious summer time chicken recipe that's so easy to make.
48.Pineapple Plank Grilled Salmon
Fresh BBQ salmon, seasoned to perfection and grilled on a pineapple "plank" (the outside skin of the pineapple) over hot coals for a juicy, tender flake, finished with a fresh zesty strawberry pineapple salsa with cilantro and creamy avocado.
49.Smoked Turkey Breast
This juicy and flavorful smoked turkey breast is perfect for something a little different at your next holiday meal but you don't have to wait, it's delicious year round!
50.Garlic Butter Instant Pot Red Potatoes
Looking for a simple and comforting side dish you can quickly whip up for as a side for any meal? This dump and start garlic butter Instant Pot Red Potatoes ticks all the boxes and is ready in less than 25 minutes!
51.Grilled Teriyaki Tofu Steak
These grilled teriyaki tofu steaks are the perfect vegan barbecue food. Delicious, crispy, meaty, and gluten-free, they're also great when pan-fried.
52.Balsamic Jalapeno Grilled Tri Tip
Balsamic Jalapeno Grilled Tri Tip is the best of the best in barbecue food. Delicious and full of flavor in every bite.
53.Loaded Mock Keto Potato Salad
This Loaded Mock Keto Potato Salad is the perfect low carb substitution for traditional potato salad. Perfect to take to your next keto potluck or barbecue.
54.Instant Pot Macaroni Salad
Instant Pot Macaroni Salad. Let me introduce you to one of the best beginner uses of the instant pot and that is making the best instant pot macaroni salad. Incredibly quick and easy in the instant pot, no draining of the macaroni and perfect for serving from the instant pot inner pot.
55.Air Fryer Healthy Southwestern Salad
Air Fryer Healthy Southwestern Salad. A delicious southwestern style salad using the air fryer to roast mixed peppers, chickpeas and sweetcorn. Low in calories, vegan, vegetarian and gluten free.
56.Grilled Tofu Veggie Kabobs
These Grilled Tofu Veggie Kabobs are a perfect option for vegan grilling. A wonderful combination of flavors and textures, marinated in teriyaki sauce, and cooked to perfection on the BBQ!
57.Vegan Macaroni Salad
This Vegan Macaroni salad is a delicious, lightened up version of the classic dish. It will be a crowd pleaser at your next BBQ, picnic, or potluck! No one will guess that it's vegan!
58.Ground Beef Kebabs
These Ground Beef Kebabs are SUPER easy to make, whether you're grilling for a summer bbq or baking them in the oven year-round. They use a few cheap ingredients you probably already have, but they'll be the hit of your next potluck or dinner!
59.Grilled Halibut Tacos
These grilled halibut tacos are filled with fresh halibut and loaded with roasted salsa verde, vegetables, and spices to make a flavorful entrée that's as colorful as it is delicious. The mango adds the perfect burst of sweetness to an otherwise meaty, spicy dish.
60.French Onion Burger
If you love French onion soup, then you will love our French Onion Burger! Seasoned burgers are topped with caramelized sweet onions and melted Asiago cheese.
61.Grilled Chipotle Chicken and Peaches
Grilled chicken breasts and fresh juicy peaches are seasoned with a hint of chipotle spice and glazed with sweet chili sauce for a sweet and spicy summer dinner
62.Juicy and Tender Grilled Pork Shoulder
Tender, golden and juicy, this simple grilled pork shoulder recipe makes a quick and tasty weeknight meal idea the whole family will love.
63.Instant Pot BBq Pork Chops
Tender and juicy pork chops are smothered with homemade keto BBQ sauce. These chops are easily done using your trendy Instant Pot.
64.Moroccan Grilled Chicken Breasts
Turn your boring chicken breasts into these flavorful Moroccan Grilled Chicken Breasts. They are simple to make yet packed with delicious flavors!
65.Tsukune
These Japanese-style chicken meatballs are off the charts delicious! With a sweet, salty, and little sticky teriyaki sauce, I guarantee your guests will have no problem eating one after another.
66.Grilled Peach Avocado Salad
The thing that sets this Grilled Peach Avocado Salad apart from others? Toss with a sweet aged balsamic vinegar first, then finish with fresh arugula and salty crisp prosciutto for that ultimate summer peach salad feast!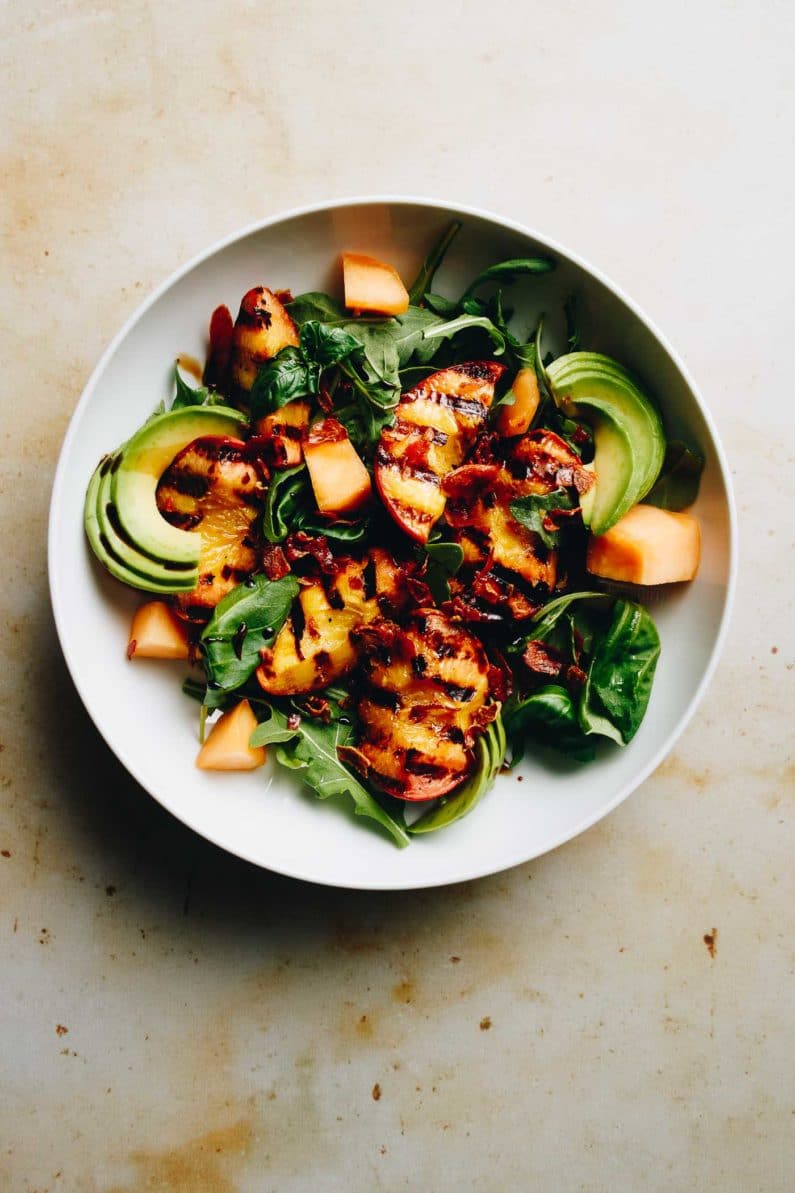 67.Smoked Salmon
This smoked salmon recipe turns an ordinary piece of fish into an extraordinary, delectable, melt-in-your-mouth, flavorful morsel that will become a new favorite with just your first bite.
68.Smoky Pressure Cooker Ribs
This recipe for smoky Pressure Cooker Ribs requires two things: a pressure cooker and a smoker. Get perfectly tender, smoked ribs in under 2 hours, with minimal hands-on time. If you're a barbecue purist who doesn't like sauce on their ribs, you will love this recipe. If you're a bad pre-planner who wants last minute ribs, this one is for you.
69.Classic Potato Salad
Three special ingredients make this a standout: sour cream, a splash of dill pickle juice and Russian style dill pickles. All those things, plus unpeeled red potatoes and you have yourself a family favorite right here.
70.Southern Style Buttermilk Coleslaw
This southern style buttermilk coleslaw is perfect for your next bbq! It stays perfectly crisp for days, meaning you can make it the day ahead for an easy make ahead BBQ side dish.
71.Marinated Mushroom Pasta Salad
Easy Marinated Mushroom Pasta Salad is full of aromatic vegetables, olives and penne pasta. It is tossed in a simple olive-mustard vinaigrette and is perfect for picnics or potlucks.
72.Balsamic Vinegar Barbecue Ribs
Balsamic Vinegar Barbecue Ribs are coated with a sweet sassy rub and slow cooked on the grill and basted with a tangy balsamic vinegar barbecue sauce. They always get rave reviews from friends and family.
73.Spicy Barbecue Pork Pepper Shish Kabobs
These spicy pork & pepper shish kabobs are a must have recipe. They are easy, remarkably dependable and totally delectable.
74.Korean BBQ Chicken
Korean BBQ Chicken is a fast and fabulous dinner recipe packed with big flavors of garlic, ginger, soy sauce, sriracha and more! It's lightly spicy and cooks in less than 15 minutes!!
75.Grilled Chicken Wings
Grilled Chicken Wings tossed in a sticky sweet-spicy sauce are finger licking good! A little trick makes them crispy off the grill like fried chicken!